According to the 2012 Kentucky Equine Survey (the last survey taken since 1977!), the Kentucky equine industry had a total economic impact of almost $3 billion and generated 40,665 jobs.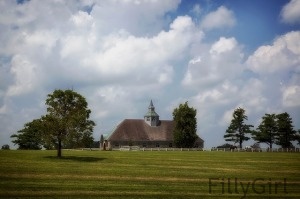 The study found that the state is home to 242,400 horses and the total value of Kentucky's equine and equine-related assets is estimated at $23.4 billion.  The survey's results identified 35,000 equine operations and 1.1 million acres devoted to equine use.
From the inventory portion of the study, the total of all equine-related sales and income for equine operations was about $1.1 billion. That total came from sales of all equines, estimated to be $521.1 million, and $491 million in income from both breeding and non-breeding services, such as training, lessons, boarding, farrier, transportation, purses and incentives.
These figures are staggering! Well folks, there you have it.  If you're looking to get into the horse business, look no further.  Kentucky is the place to be. With 15,548 mares bread there in 2013 alone, maybe you could open a business selling pretty pink pony clips for their manes!  Yea, that's it… FillyGirl Pink Pony Clips!!  Now if I could just remember where I left that damn arts and crafts kit!
Click on the following link if you want more details or the actual 2012 Kentucky Equine Survey 
Share This: