In our last post titled "Should I Clip My Horse's Hair In The Winter?" we mentioned the "standard" styles used when clipping out a horse's hair including the "bib" clip and the "hunter" clip.  When we got this picture, we felt compelled to share it with all the FillyFans out there.  Not just because it's the holidays, and not just because it's a great time to rally around the principles that the American Flag stands for, but because of the pure artistry and overall beauty of the project.  The skill, the patience, and the time involved in clipping a full horse out like that is incredible.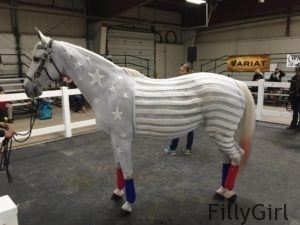 The clipped out horse in the picture was featured at the Equine Affaire in Springfield, Massachusetts this November.  Equine Affaire was founded with the goal of creating a first-class, education-oriented horsemen's exposition in which horse people representing all breeds of horses, and all equestrian disciplines, would convene in a non-competitive environment and share their passion for horses.  The next Equine Affaire takes place in Columbus, Ohio April 6th-9th, 2017.  If you've never been, check it out, it's great fun and very educational.
P.S. If you feel inspired to clip your horse's hair after seeing this pic, please remember to be cautious and read our post titled "A woman was killed clipping a horse- reminder!


Share This: